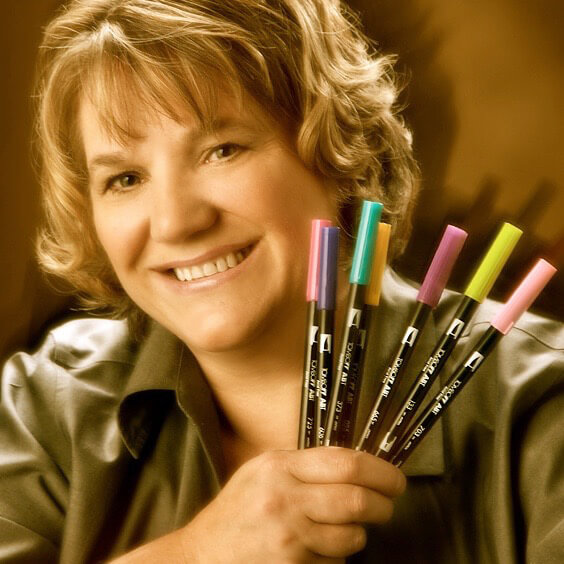 Hello, I'm Marie Browning
Creative Maker and Experimenter (in ALL Mediums). Mama Marie to six. Creative Designer and Tinkerer of ThanksGreeting. Owner and designer of Marie Browning Creates, Brentwood Bay, Vancouver Island, British Columbia, Canada.
I'm a craft designer, consultant, author, teacher and currently the lead designer for Tombow. Can you tell, I LOVE all things crafty? Besides designing and creating, I LOVE teaching and sharing my knowledge with others – that is why I am so excited to join ThanksGreeting as the Creative Designer. ThanksGreeting makes sharing your creativity and connecting with others so easy.
A single word can say so much. These are some of our favourite words at ThanksGreeting and it was so fun to play with who came up for me when I thought of the word. Think of someone, pick a word and then share your gratitude by adding your own unique message inside. Send a creative word card to someone who moves you beyond words!
Who doesn't love a cute little monster to brighten your day? Use my monster doodles as a jumping off place to send a monstrously cute greeting to your favourite little gremlins!
There is just something about quotes and calligraphy, isn't there? I hope that you enjoy the creative collaboration with my dear friend Debra Quartermain. Debra always knows just the right thing to say and I so enjoyed doing the lettering for her Heart Felt messages. Use them to create your own ThanksGreeting and I hope they help you to brighten someone's day – Marie
Marie has over two million books in print with titles reprinted in five different languages. Marie Browning is the consummate craft designer and writer. For over 25 years Marie has inspired countless crafters internationally with her vast knowledge of mediums, products and techniques. She is the bestselling author of numerous craft books and has created designs for various consumer and industry magazines. In addition to her prolific craft design, Marie also is a creative consultant, assisting manufactures in developing innovative products and identifying new ways to market their products to the craft consumer.
Marie has taught classes, demonstrated at trade shows and appeared on TV and on-line videos. Her professional expertise and vast knowledge of the craft industry, coupled with her warm and encouraging way of making anyone feel like they can be creative, makes Marie and her company, Marie Browning Creates ™, a true asset to the growth of the creative industry.
My studio: My studio is always changing and evolving around the needs of my family! I have learned that you need to be creative wherever YOU are. Don't let a lack of a designated crafting area stop you from creating!
My materials: I LOVE craft supplies and am inspired to craft in all different kinds of media, although lettering is one of my passions.
What my day looks like: My day is spent between working in the garden with my husband Scott, being MaMa Marie to six adorable grandchildren and squeezing in creative pursuits in the spaces between.
My favourite quote: "Give yourself permission to PLAY!" – Marie Browning